Step 1 - Enter your data
Click on the blue button to open the online form. Fill in some data about you and your AV sequence and submit.
The form is open: 15. Januar 2023 – 15. März 2023
Step 2: Send your files via wetransfer
Click on the blue button to open the wetransfer web service in a new page.

Add all your files by clicking on the '+' symbol.
We need the following files from you: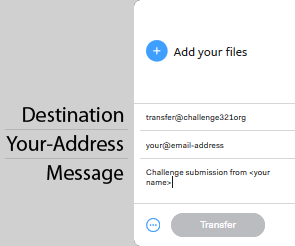 your show (as possible H.264 / MP4), use the title as file name
a picture from your show, use the title as file name
a portrait from you, use your name as file name (first-last name)
optional any further description of your show, use the title as file name

The destination email address is: transfer@challenge321.org
(should be already filled in, please check)

Enter your email address in the source email field (needed to get confirmations)

The message is: Challenge submission from (please add your name)

Click on the Send button to start the transfer.
You will get email confirmations on completed upload and on completed download.
Step 3: Send the fee of 10 Euro to our account.
Use either:

PayPal (preferred): pay money to: Pay@challenge321.org, see hint below
Bank transfer: Receiver: Achim A. H. Maier, IBAN: DE90 1203 0000 1075 8319 15, BIC: BYLADEM1001
In case you need the street address of the receiver, please ask by email.
If you pay the entry fee by PayPal, please ensure to send the money to "friends and family" and not
to pay for goods or services.
Only money transfers to "friends and family" are without a fee for the receptor. Thank you for your cooperation.
Done
You will find your submission within a few days on the Challenge321.org website.
Any questions? write to info321@challenge321.org